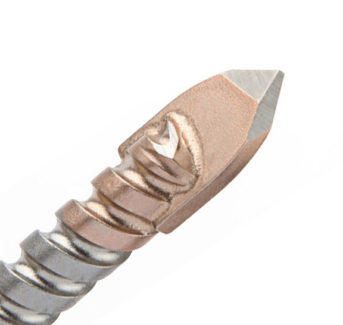 Features
• New harder carbide grade – Made in Europe.
• 4 sided design "diamond style" with aggressive cutting edges.
• Copper past brazing.
• Fast spiral with tightened pitch.
• Total length improved.
• Shiny / copper fi nishing.
Benefits
• Agressive tip improves precision and penetration.
• Drilling through up to class 3 ceramic tiles.
• Use dry for easy work.
• Better resistance to high temperature when drilling.
• Speed up dust extraction.
• Ideal for deep materials.
• Whirlwind effect : help to cool down the drill bit.
• Suitable for more materials : non-tempered glass, plastic, composite, brick, marble.
• Identifying design.
Ref.400Y