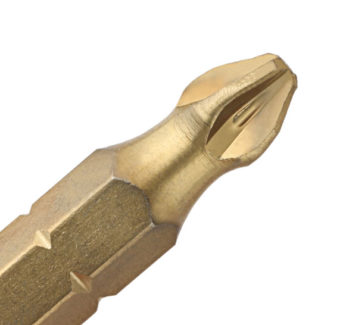 For industrial applications
Features
• Double titanium layer.
• Surface hardness of 3,000 Vickers (standard TIN bit approx. 2,500 Vickers).
• Optimised core toughness and a thicker wearing coat give a longer tool life than
that of a TIN bit with standard coating.
• Torsion geometry.
• Quick lock attachment.
• Optimum corrosion protection
Benefits
• As a result of the torsional shape, the bit is suitable for all delicate applications in
both hard and soft materials.
• ISOTIN® bits for screw fastening series.
• The double titanium cover prevents corrosion and ensures high surface hardness.
• Quick lock attachment for optimum holding in the chuck.
• The torsion geometry combined with the ISOTIN® coating increases the resistance
to tightening torque.
• Fully compatible with PL, PH, PZ, TX type screw.
Ref.UUSE-UUSG