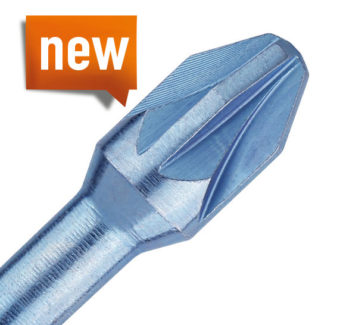 Intensive use
Lifetime x12
Features
• Lifetime 12x longer than standard screwbits.
• BlueFit Precision : PH, PZ, TX perfectly fits screwheads and avoid slipping and destroying head geometry.
• BlueRing Reinforcement : a strong ring reinforces the head for an even longer resistance.
• BlueShape Anti-breakage : the flex zone is reinforced on each side for an even stronger link with the head and the attachment and avoid breakages.
• Shock absorber : the Blueshock screwbit offers a special design with elongated torsion zone, resisting to high torque and violent impacts . Its hardness suits the most powerfull machines.
• BlueGuide attachment : 30 mm length for an easy use with or without bitholder.
Hexa ¼'' DIN 3126 C 6,3 attachment
• High quality alloyed steel. Made in Germany.
• Rustproof Blue finishing.