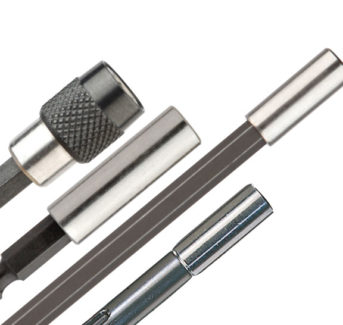 Strong resistance to torsion
Excellent concentricity
Features
• Cold forging process.
• High grade Stainless steel (according to DIN 7427).
• Bit holding ring (according to model).
• Magnetic or non magnetic according to needs.
Benefits
• Compatible with 1/4″ Hex, 5/16″ Desoutter,
7 mm Fein, 5,5 mm Bosch,10 mm SDS-PLUS shanks.
• Magnetic option allows to hold the screws.
• Ring option allows to hold strongly the screw bits.
• Quick lock option.
• Ideal for hard-to-reach areas, with longer lengths (up to 250mm).
Ref.UUSA-U001