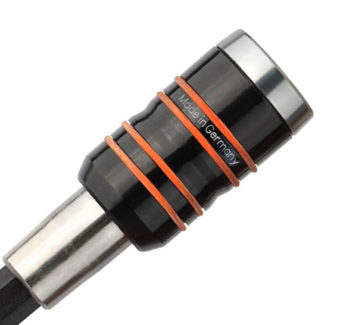 Additional ring magnet
Made in Germany
Features
• Automatic adjustable magnet.
• Double permanent magnets at the bottom and exit of the bit holder (ring magnet).
• Quick lock system to hold all standard bits.
• Cold forging process.
Benefits
• Effective holding of screws with powerful magnets.
• Ideal for long screws.
• Ideal for horizontal and vertical work alike.
• Quick ejection and rapid bit change.
• Very high torsion resistance.
• Quick and precise manipulation with just one hand.
• Quick lock attachment for optimum holding in the chuck.
Ref.UUSA-U001