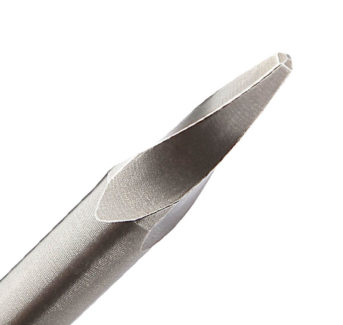 Effortless drilling
Anti-lock
Features
• Helical working head.
• 4 unblocking cutting edges.
• Finish : sandblasted.
• Compatible SDS-plus / SDS-max.
Benefits
• EFFORTLESS DRILLING : Due to its helical head, the pointed chisel penetrates and
exploses easily more materials. The user's efforts are minimised in comparison to a
classic head form. User comfort is improved.
• ANTI-LOCK : The new helical working head works in half rotation with constante pressure
on its 4 cutting edges. Due to its guide and specifi c geometry which air and dust removal
during drilling, it doesn't lock into materials.
• 100% POWERFULL : High temperature heat treatment under controlled atmospheric
conditions provides maximum strength which concentrates all the hammer power for a real
chiseling performance.
REf.322Y